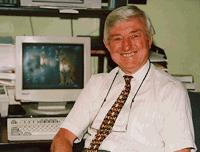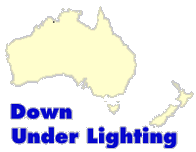 Reg. R. Wilson, MIES



---
4/99 © Reg. R. Wilson

E-mail comments or suggestions to regrw@acay.com.au.


Correspondents Comment

When the last issue was posted late in 1998 the 43rd IESANZ Annual Convention was just starting in Brisbane, Queensland and it attracted an outstanding number of International speakers and many visitors from New Zealand and from all Australian States. The hard working members of the IESANZ (QLD) deserve commendation for a most successful gathering of the lighting fraternity. Now, as noted below, the preparations for this year's Convention are well under way.

With the approach of the Olympic games in Sydney that city is enjoying a healthy increase in lighting activity with business interests being kept very busy. The lighting industry is undergoing some changes commercially with the result that experienced light technical sales staff are in demand. This increase in activity is not restricted to sales organisations as many design and consulting offices are being kept fully occupied.

It is pleasing to report that correspondence to this column from our International friends is also on the increase. Many thanks to those who contact me and I hope that where queries are raised the replies have been of assistance. Dave Burtner, President of inter.Light Inc., advises that "traffic" on the LightSearch.com site to Australia and this column is doubling each year - - thank you to all of our visitors.

LightFair International '99

As you read this, LightFair '99 will be less than a month away but it is not too late to attend. Please check out the LightFair web site right now! I will be attending and will report in the next issue of this column during June and also in "Lighting" magazine. This increasingly important lighting show sees more Australians visiting each year, attending the top flight seminars (increasing in number every year) and the workshops as well as taking in the trade exhibition of more than 700 stands. Remember you are supporting the IESNA and IALD when you attend.

Cockle Bay Fountain

Cockle Bay is the central area of the popular Darling Harbour complex and has seen and is still seeing considerable development around its shores. One such development is the Cockle Bay Fountain, which was designed for the Lend Lease Consortium by Lend Lease Design and Plowright Fine Arts. The fountain employs a most successful fibre optic lighting system provided by Fibrestars Sydney representatives, The Lighting Group. This installation has 3 synchronised illuminators located in voids beneath the cobblestone surrounds and from these run end lit fibre optic cables to the fountain heads. Particular attention had to be paid to prevent water from tracking back from the fountain heads to the illuminators with The Lighting Group developing the Opti-lens System which prevents this happening.

Lighting Work Honoured

It is always a pleasure to report on the work of a long serving member of the IESANZ being recognised in a most effective manner. The Illuminating Engineering Society of South Australia saw fit at its October 1998 meeting to recommend J. Derrick Kendrick as an Honorary FIES for services to the South Australian Society. Derrick is well known for his academic contributions in the field in daylighting but outside of South Australia his contributions to the Society might not be as well known. A brief description of Derrick's work will show that this honour is well deserved.

International Dark Sky Assn. President Visits Sydney

During a private visit to Australia Dr. Don Davis, President of the International DarkSky Association (IDA), spent several days in Sydney and had discussions with local members and affiliated organisations. Dr. Davis explained the work currently in hand by the IDA which includes the development a new outdoor lighting ordinance to assist in the preservation of dark skies. This initially will cater for U.S. requirements, but later, a modified version will be prepared as a guide for International application of this increasingly important environmental subject. It is interesting to note that outside of the U.S. and Canada, Australia has the highest membership in the IDA.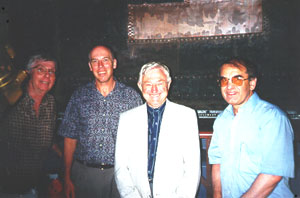 Most of the discussions were held at the Sydney Observatory (a unit of the Power House Museum) and the picture shows (left to right) Dr Davis, Bill Thompson - Secretary, Sydney Outdoor Lighting Improvement Society (SOLIS), Reg Wilson, and Dr. Nick Lomb - Curator, Sydney Observatory.
Bill Thompson and Dr. Lomb described the work and successes that SOLIS had achieved during its first year of operation in Sydney. Any queries and support regarding activities relating to SOLIS should be directed to Bill Thompson.
Draft Standards on the Internet
Standards Australia recently announced that Drafts of Proposed Standards will now be freely available for public comment at their Web site (www.standards.com.au). It is pleasing to note that this organisation is the worldís first national standards body to provide increased availability of this material to assist in obtaining broader comment. These Drafts will be available as they are released for public comment and will remain on the Web site after the comment period has closed as a reference.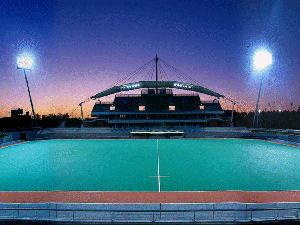 N.S.W. State Hockey Stadium
The Olympic Co-ordination Authority is currently upgrading the facilities at the State Hockey Centre, part of the State Sports Centre, required for the Sydney 2000 Olympic and Paralympic Games. The new hockey centre will provide long term headquarters for the sport of hockey in New South Wales. Completed in July 1998, the State Hockey Centre includes a new main competition pitch and the existing pitch.
The lighting specification for this project called for compliance with recommendations made by the FIH, the relevant Australian Standard, and the CIE guide for the lighting of sports events for colour television. Essentially this requires 1400 lux towards the main camera position, however extra functionality was to be provided by having two further switch-modes at lower lighting levels for national competition and club competition, namely 500 lux and 300 lux respectively.
Four corner positioned columns at 30 metres to the lowest part of the headframe were planned together with a small cluster on the new grandstand roof. Restrictions were placed on the maximum allowable number of floodlights per headframe and on the roof. The supply voltage was 415V with 10% of the installed floodlights to be capable of hot re-strike. Metal halide lamps with a general colour rendering index of >90 and a correlated colour temperature of 5600 K were desired to ensure high quality CTV coverage.
Andrew Nagy of Philips Lighting gave careful consideration to the design requirements and a highly refined design solution was found to satisfy the basic light technical parameters while bringing with it a simple configuration to a complex installation problem. The latest, most efficient, and highly controlled hardware is installed in a creative way that results in a facility that provides optimal seeing conditions for top player performance.
Lighting'99
The 44th IESANZ Convention and Trade Exhibition will be held in the city of Adelaide in the State of South Australia on the 18th & 19th October 1999 with the theme of "Lighting'99 - Then, Now and Beyond". In our next issue we will provide more information but in the interim please make a diary entry for this important lighting event.
IESANZ (Victoria)
Mike O'Neil-Shaw has drawn attention to the fact that this column and (by default) inter.light Inc. has not listed the IESANZ (Victoria) Web site. Apologies to all of the good IESANZ folk in Victoria! All visitors please note that their page can be found on www.iesanzv.asn.au and is updated monthly - a most important feature. This address has also been added to the inter.Light Australia page as well.
IESANZ (N.S.W.)
Whilst on the subject of IESANZ Web sites we look forward to announcing a Web site for the IESANZ (NSW) in the near future. It is understood that preparation for their site is well advanced.
International Correspondence
As mentioned above a number of messages are received by this column from many parts of the world, mainly covering a variety of requests for information etc. Included are queries related to employment possibilities and whilst it is not intended to start an employment section one request from Poland requires mention as the correspondent made considerable effort to show his interest in lighting employment possibilities in Australia and New Zealand. Please view www.free.com.pl/kryszczk/cv.html
Also in the same vein but from the U.S. is http://rtt.colorado.edu/~moseleyz/
Next issue
The next issue should be posted towards the end of June. For all of our local (Aus. and N.Z.) visitors can you have your contributions sent by the first week of June - thank you!
You can reach me at regrw@acay.com.au or the local phone / fax. number is (02) 9488 7078
© Reg R. Wilson Lighting Analysis & Design
---
[inter.Light]

inter.Light ©1998 inter.Light, Inc.