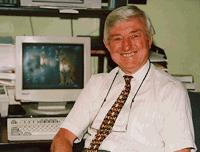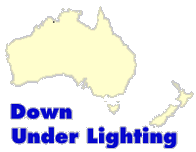 Reg. R. Wilson, MIES



---
1/2000 © Reg. R. Wilson

E-mail comments or suggestions to regrw@acay.com.au.


Correspondents Comment

HAPPY NEW YEAR to all Down Under Lighting readers!! May the year 2000 see you and your organization achieve much success and some of the magic of the figures 2000 translate into new products and new installations which will make this truly a vintage year in the lighting industry right around the World.

A big thank you to the loyal supporters of this column during the long absence from posting regular updates to this site, especially to our host - inter-light Inc. Whilst checking to see if a new issue of DUL had been posted I feel sure you have noticed the impressive changes made to the Light Search site - Congratulations (and many thanks) to Dave Burtner.

Down here in the land of Aus. this is indeed a great year for us as hosting the year 2000 Olympic Games is more than enough to excite every one of our 20+ million citizens. We started off our new year with a bang - well, thousands of them as all of you who watched the CNN telecast of Sydney's spectacular fireworks display on the Harbour will have seen. The staging of the Games has seen a large number of spectacular projects take shape apart from the sporting infrastructure and I take this opportunity of requesting photographs and copy from those organizations responsible for them for inclusion in forthcoming issues of DUL (contact details below).

The Sydney Opera House

In our 10/98 issue of DUL a picture was included of the Sydney Opera House bathed in a very positive blue light. In '99 during the Festival of Sydney the temporary colour was changed to red with lighting equipment supplied by Sylvania Lighting International projecting the startling colour. This year a Festival highlight will be the application of a complex series of moving coloured lighting effects on this famous structure.
IES (AUST.& NZ) Annual Convention
October saw the last IESANZ Annual convention of the 19 hundreds - this column is not going to become involved in the great millennium debate!! This was also the last Convention in the traditional format combining the Conference with a trade show. This year sees the revised format of a just a Conference with the trade show combining with the major national exhibition "DesignEX " and carrying the title LIGHTfair 2000. This annual major combined exhibition will be held in Sydney and Melbourne on alternate years with Sydney starting the ball rolling this year. This years annual conference will be held in July in Darwin making history as the first time this event has been held outside of a State capital city. For further information on the Darwin Conference contact Phil Keane (ph.61-8-8223 6298) and for DesignEX contact Australian Trade Exhibitions (email: designex@ate.net.au).
Dr. David Crawford's Australian Visit
December saw Dr. David Crawford, Executive Director - International Dark Sky Association, make his second visit to Australia - the first being in 1995. Dr. Crawford addressed several major meetings in Sydney and Melbourne. In Sydney he was the guest speaker at the Annual General Meeting of the IES Aust. & NZ (NSW). A self confessed evangelist for quality outdoor lighting his lecture "Night-time Lighting and the Environment" was enthusiastically received and resulted in an extensive question time which saw some vigorous discussion on the subject. He delivered the keynote address at the Christmas Meeting of the NSW branch of the Australian Institute of Physics and the Sydney Association of Astrophysics at Sydney Observatory where Dr. Nick Lomb, Curator of the Observatory, maintains an active interest in the growth of exterior lighting in the city of Sydney.
Whilst visiting Canberra Dr. Crawford had several meetings at the Mt. Stromlo Observatory to discuss International moves to reduce upward waste light which is having an increasing negative effect on Astronomical observation. Prof. Michael Bessell from the ANU Research School of Astronomy and Astrophysics advised that revisions to the ORANA Regional Environmental Plan #1 scheduled to commence shortly would be paying close attention to the moves described by Dr. Crawford.
Your correspondent, Prof. Michael Bessell.- ANU, and Dr. David Crawford - IDA
Dr. Warren Julian FIES chaired a meeting held at the University of Sydney which saw representatives from lighting design consultancies, utilities Energy Australia & Integral Energy, Dept. of Urban Affairs and Planning and the City of Sydney join in an extensive and wide ranging discussion with Dr. Crawford . High on the agenda was comment on the extensive work being done in many countries to reduce the amount of waste light being directed into night sky and improving the overall quality of both decorative and public lighting.
Award Winning Flag Lighting In Canberra

International Flag display with Old Parliament House in the background
Australian company Spectra Lighting with HQ in Brisbane were the suppliers of inground uplights used to illuminate the International Flag Display in Canberra. This impressive installation was designed by Australian consultants, Barry Webb & Associates. The flag display is one of the largest continuous and permanent displays of national flags in the world and consists of flags from 78 countries and two international organisations and is certainly a colourful spectacle, either by day or night. Each flag is 4 metres long and flies on a 12 metre pole. It is located between the High Court and the Library on the shores of Lake Burley Griffin. While the famous United Nations flags in New York are lowered each night, Canberra's flags remain permanently raised and floodlit at night.
This installation received a Certificate of Commendation at the 1999 IESANZ (NSW) Meritorious Lighting Awards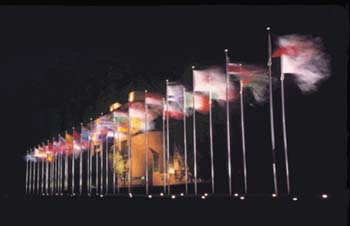 New Australian / New Zealand Standard
The AS/NZS 1158 Road Lighting series of Standards has just seen a most important new part added to an already World leading group of documents dealing with public lighting. AS/NZS 1158.3.1-1999 Pedestrian Area (Category P) Lighting represents 6 years work by Standards Committee LG2 and was published on November 5. Placing great emphasis on night time pedestrian safety in public places the specification of vertical illuminance requirements makes a first appearance. Following the trend started in the Vehicular part of the Standard the specification of Upward Waste Light Ratio (UWLR) is detailed for each category of luminaire. This Standard will no doubt interest our International visitors to this site and it is suggested that you log onto Australian Standards at www.standards.com.au for more details about Australian lighting Standards. This is an essential document for anyone working in the field of public Lighting Analysis & Design
New Lighting Software
Rayforge Services announces the release of OLIVIA Version 3.00 OLIVIA, which started out as an Obtrusive Light program but is now improved to a general purpose Outdoor Lighting program capable of doing obtrusive Light calculations. To cater for the general purpose requirements, OLIVIA has been enhanced to provide; Additional Lighting Parameters: - Luminance - Diffuse or CIE Road Surface (OLIVIA already calculates Eh, Ev, Es, Ec, TI and Intensity in any combination on any Plane for 'Application' or 'Obtrusive'). It also provides Scaled Printouts (Program suggested or User set), Isolines or value of parameter at each grid point, Automatic calculation grid generation (or User set), Automatic Zoom normal to Plane (or User Set).
A number of other features are also included. The following images show:
'Main screen' (with Luminaire and Plane frames visible - both can be hidden to give a 'full screen' view), and the 'Waste Light' output screen.
Main Screen: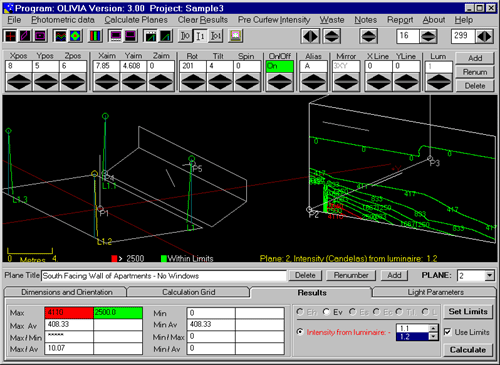 Waste Light screen: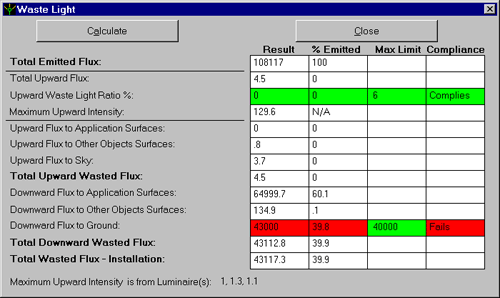 Further information available at: www/ozemail.com.au/~rayforge/olivia
Or contact RAYFORGE Services at:
Phone & Fax: 61-2- 9411 4927
EMail: rayforge@ozemail.com.au
LightFair International 2000
Please keep in mind that now is the time to think seriously about attending LightFair International 2000 which will be held in New York this year. Log onto www.lightfair.com for full details. As usual your correspondent will be attending and if you would like to say hello please email me so that suitable arrangements can be made for a meeting place - most probably the inter-Light Inc. booth #979.
Next Issue
A special request for Aust/ NZ visitors to this column - please send me news plus graphics right now for our next issue which I would like to post in March. This column is visited extensively by International visitors who are really interested in what we are doing "Down Under". Keep in mind my request for Olympic, themed projects.
You can reach me at regrw@acay.com.au or the local phone / fax. number is (02) 9488 7078
© Reg R. Wilson Lighting Analysis & Design
---
[Lightsearch.com]

Lightsearch.com ©2000 inter.Light, Inc.