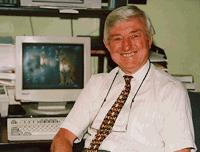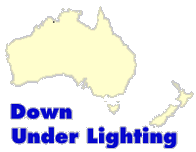 Reg. R. Wilson, MIES



---
4/2000 © Reg. R. Wilson

E-mail comments or suggestions to regrw@acay.com.au.


Correspondents Comment

Almost LightFair time!! And a new issue of DUL to precede this great show with a few reminders.

Regular readers who use a "favourites" or similar bookmark directly to this page might not have noticed the recent upgrades by inter.Light Inc to the Lightsearch site but those who enter this column via the main Lightsearch URL will have noticed that to find the "Australia" information, including this column, you now select "International" and take it from there. Dave Burtner has links in place for the rest of this year to ensure connection using the earlier URL but it is suggested that you modify your favourites/bookmark to use the new URLs . The plural has been used as you can either enter via the Australia address www.lightsearch.com/search/international/australia/index.html or direct to DUL www.lightsearch.com/search/international/australia/dwnunder.html. Of course if you have Lightsearch already listed just click on International then Australia and you are there.

It is pleasing to note that an increasing number of Australian Lighting Industry members (consultants as well as manufacturers) are taking advantage of the free listing service provided by Lightsearch. For those who are not listed as yet - why delay?

A reminder that any reader who will be at Light Fair and would like to say hello to me just call at inter.light Inc booth 979 to arrange a meeting time.

Festival of Sydney Opera House Lighting - 2000

In the last issue we showed a picture of a red Opera House and the year before a Blue one. This year the people of Sydney were presented an Opera House with a full spectacle of changing single colours then a series of coloured and moving lighting patterns. The evening when this picture was taken many people were settled down on park seating to enjoy this great light show. However not all passers by realised what was going on as one young couple noticing camera on tripod etc asked if there was a special display to come on. They seemed disappointed to learn that it was all happening in front of their eyes!! Watch this column for more spectacular lighting shots featuring this very beautiful Building.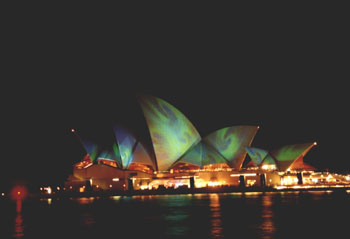 Australia Day Honours
Well known electrical consultant, Barry Webb, whose large National organization is best known for their expertise in lighting design was honoured on Australia Day (Jan.26) by becoming a Member of the Order of Australia (AM). The citation was "for service to electrical engineering, particularly in the area of lighting as a consultant and lecturer". Congratulations Barry.
A Great Loss to the Lighting Industry
It is with much regret that this column records the passing of Klaus Engelhard former Managing Director of Osram Australia Pty Ltd. after a long and hard fought battle with cancer. Much has been written in the lighting media about Klaus and his wonderful contribution to the lighting industry all of which is supported by this column. From a personal aspect I will miss a great colleague and business associate and a good friend with whom I shared a passion for growing and propagating Australian plants and express my sympathy to the Engelhard family .
Sydney - old GPO Building
The beautiful old Sydney GPO Building has been transformed over past few years into a dramatic new commercial centre integrating with the very new Westin Hotel. Facing onto historic Martin Place this has always been a popular meeting place. The commission to provide sympathetic floodlighting was awarded to leading consultants NDY Light whose Susan Lambert IALD has provided a superb execution of decorative exterior lighting . No doubt the key feature is the great clock tower but the use of a large number of low wattage lamps in carefully selected luminaires in the whole project not only provides interesting lighting but with an excellent third dimensional quality . This technique also not only ensures that a minimum of light is wasted either onto adjacent structures or the nightsky but most importantly also hides from direct view the light source with itís intrinsic potential to cause glare. A top job Susan!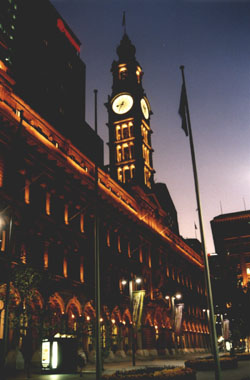 LightFair International 2000
Renee Gable and Angela Ausband from AMC Trade Shows advise that this is the largest of the LightFairs to be held. This is a fitting start to the second decade of this spectacular event. There is still plenty of time to pre-register on line at www.lightfair.com
LightFair - IALD & IESNA
As a member of both organizations I thoroughly recommend that you visit both booths and attend these IALD special events:
Tuesday 9th - 5.00pm - 7.00pm IALD Semi - Annual Meeting at the Javits Centre.
Wednesday 10th 7.00pm - 12.30am IALD 17th Annual Awards Presentation & Dinner. Tickets from LightFair or IALD office
Thursday 11th 8.30am - 9.00am For those unable to attend the Awards Dinner the Awards Committee will repeat the presentation for members and others interested in this years winners.
Thursday 11th 12.15pm - 1.45pm LIRC Luncheon. Tickets at LightFair
Joint IESNA & IALD special events
Tuesday to Thursday 9-11th May IESNA & IALD Gallery of Award (Complimentary)
IESNA Special events
Tuesday 9th N.Y.Section IESNA sponsors "The Howard Brandston Student Tour & Luncheon" Student ID required)
Wednesday 10th 7.30am - 8.30am IESNA International Illumination Design Awards (IIDA) Roundtable Breakfast. Tickets at LightFair.
Be sure to visit the IESNA booth for a good look at the wonderful (I think a World beater) range of lighting publications at special Show pricing and a chance to meet and discuss lighting matters with the "Engine Room" of the Society. If you are not already a member you can join right on the spot.
ANZAC Bridge
As this copy is being written on April 4th the floodlighting of the ANZAC Bridge is being officially switched on. The picture we have was taken during the last trial run a few weeks ago. This is Sydney's newest bridge with the design and supply of the floodlighting fixtures being from Philips Lighting. Hopefully the next issue will feature more photographs and a technical explanation from Philips - over to you Andrew!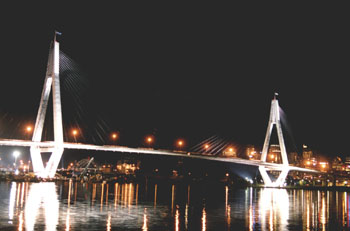 IES (AUST.&NZ) Annual Convention - 2000
As mentioned in the last issue this year sees the first year when the Trade Show and the Conference are being held as separate events. The Conference is being held in Darwin and for details fax Phil Keane on 61-8-8223 6298, For details of the Trade Show, now operating under the title of LIGHTfair 2000 as part of interiordesignEX please email designex@ate.net.au.
International Darksky Association (IDA)
In the last posting a brief report was made of the visit to Aust. by the IDA Executive Director, Dr.David Crawford. I am pleased to advise that I have been invited to provide a presentation at the IDA AGM being held at Tucson, Arizona on April 27-30 describing our Exterior Lighting Standards including AS 1158 (series) and 4282 . This will be interesting as the IESNA RP8 is just being released. I will report in the next issue.
SOLIS First Annual General Meeting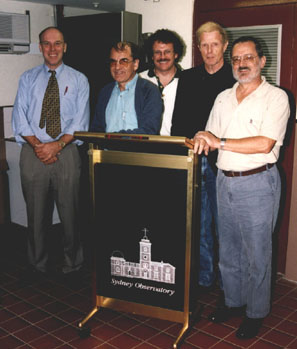 This young organization which devotes it aims improving the exterior nightime environment by reducing waste upward light and promoting good lighting techniques for comfortable viewing as just celebrated itís first full year of activity although it was formed some 20 months ago. They are an active group with a practical approach and seek assistance and support from the lighting industry. Regular monthly meetings are held on the third Monday of each month at Sydney Observatory . The original officeholders were re-elected unopposed and are as follows (l to r) Bill Thompson (secretary) Dr. Nick Lomb (vice president), Mike Chapman (treasurer), Ken Peterson (president) and Col Bembrick (committee)
Next Issue of DUL
This will most certainly not be before end of July as I do not return from my overseas jaunt until 2nd week June. Note that I depart Australia on 26th April and will only have restricted email access until my return. Do not let my absence prevent you from sending stories and graphics etc (preferably by postage mail)for inclusion in the next issue. I will, of course, provide a few comments on LightFair in that issue.
You can reach me at regrw@acay.com.au or the local phone / fax. number is (02) 9488 7078
© Reg R. Wilson Lighting Analysis & Design
---
[Lightsearch.com]

Lightsearch.com ©2000 inter.Light, Inc.