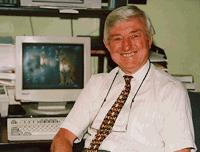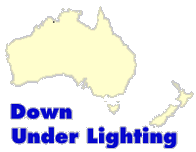 Reg. R. Wilson, MIES



---
3/97 © Reg. R. Wilson

E-mail comments or suggestions to regrw@acay.com.au.

Correspondent's Comment
This issue contains several new features - the first being a link to an excellent article by Dr. Alec Fisher and the second being our first venture into graphics. Regular visitors to this site will have noticed the continuing changes and expansion being made in the presentation and quality of information. To enable this column to match the overall expansion I seek continued and increased support from the Aust./ NZ manufacturing and specification sectors of the lighting industry. This issue also contains our first contributions from lighting design offices and will, I hope, be the forerunner of many more from other sectors of the specification area. Remember the contact address is regrw@acay.com.au - I will be happy to hear from you.

Congratulations
It is with great pleasure that congratulations are extended to Ms. Barbara Cail, publisher of Lighting Magazine in being honoured by the Government of Australia by receiving the prestigious AM award in the Australia Day Honours List. This award recognises the work Ms. Cail has contributed to the advancement of women in the business arena and the promotion of successful small business activity in this country. I feel sure that all readers will echo these sentiments.

Call for Papers - IESANZ National Convention 1997
The next IESANZ National Convention will be held in Melbourne, Victoria from 27 to 29 October at the Carlton Crest Hotel. Extensive planning has already been undertaken and will ensure that this will be a most exciting event supported by an extensive trade exhibition. The theme of the Convention is "Protecting Your Lighting Standards"

This call for papers covers both presented papers and poster papers. Suitable applicants are invited to submit papers detailing current and relevant work in topics relating to the impact of lighting standards on people and allied industries. This invitation is not limited to Aust. / NZ authors and International expressions of interest are very welcome. Full details including an Expression of Interest Form can be found in this attachment. Please complete the form and return it as soon as possible and note that abstracts must be submitted by May 17th.

New Lighting Software Distribution
Lighting Analysts Inc. of Littleton Colorado have announced the formation of an Australian sales and support office - Lighting Analysts Australasia with Mr. Eric Southgate as CEO. Previously with Lighting Sciences Australasia Eric will provide sales and support for the increasingly popular lighting design program AGI and the recently released Photometric Tool Box. You can reach him at LightingAnalysts@onaustralia.com.au or phone / fax on (03) 9755 1717.

Project News - Perth, Western Australia
In October 1995 Perth W.A. consulting engineers Nelson Mardardy & Associates submitted a detailed report to the City of Perth on the lighting strategy for "Perth - A City for People". This strategy was the combined work of a number of specialist offices with Nelson Mardardy acting as project leader. The foundation of the lighting strategy was the provision of a clarity of light at night that can be related to Perth as an icon. This philosophy relies on the use of HID lamps with high colour rendition qualities combined with a cool colour appearance. One of the first projects to utilise this concept was the recently completed Eastern Gateway. The lighting design was carried out by Lighting Images who also undertook the management of the contract.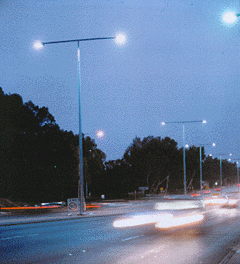 The original lighting was a combination of equipment supplied by the Main Roads Dept. and the supply authority - Western Power and comprised a mixture a mercury and HPS luminaires mounted on poles on the sides of the dual carriageway. The new lighting, in keeping with the lighting strategy was designed to employ low glare, high efficiency luminaires fitted with high colour temperature Metal Halide lamps. The poles were mounted in the central median in order to keep the number to a minimum thus improving the views to the City.

The luminaires selected are Kim Archetype AR3 with integral control gear and fitted with Tungsram 400W, 6000K Metal Halide lamps which provide a CRI of 90 with an initial luminous flux of 25,000 lumens. The luminaires are mounted on 12m high poles with 5m long outreach arms. Pole spacing is 45m with a total roadway width of 13.5m. The performance provided by this total arrangement meets Aust. Standard AS1158 requirements for Category A2 Roads.

This installation is low glare, high performance and uniform with good colour rendition which benefits the colourful landscape design associated with the project.

Project Review - Auckland, New Zealand
In our last issue mention was made of this innovative approach to increasing safety at night in a shopping precinct. This is review of the design and the success achieved. The designer is Mr. Peter Kilby, Managing Director of Consultants, Electronz Ltd and some time ago his office was approached by the K Road Business Association to examine possible solutions to reducing the areas serious and growing crime rate and make it more appealing so more people would use it at night. Peterís investigations included reviewing similar installations in the U.K. and a study carried out by the Bartlett School of Architecture at London University College. The main conclusions included that general lighting should provide a even wash of light over the area with an average horizontal Illuminance of 20 lux. Attention to vertical illuminance was important in that pedestrians should not be seen in silhouette so Peter opted for a design which would provide 20 lux at 1.5m as well as meeting the Eh requirement. The studies also stressed the importance of limiting the luminance of the luminaires in normal directions of view and the need for the luminaires to form an integrated part of the design by day as well as night.

Using some lateral thinking Peter selected a wall mounted luminaire fitted with a 70wHPS lamp and fixed this at 90deg. (on the ceiling of the awnings) thus achieving a suitable result with all design parameters met. The K Road Business Association advises that the lighting has been most successful with the President.Ms. Sue Lewis stating that "We've not had any burglaries since the lighting was installed and the night time atmosphere created by the lights has encouraged evening shopping again". Contact Peter at LightingNZ@xtra.co.nz if you have any specific queries.

Down Under Lighting Standards - Aussie Initiative
This is the title of an important and interesting technical feature written by Dr.Alec Fisher FIES for this column. Dr. Fisher is well known for major contributions he has made in the preparation of standards both in Australia / New Zealand as well as on the International scene through his work on CIE Committees. This article highlights the work being done in Aus. / NZ. in the outdoor lighting field with emphasis on the control of obtrusive light. Access Dr. Fisher's article.

Lighting Sciences Australasia Pty. Ltd.
Mr. Kevin Poulton, Director of Lighting Sciences Australasia Pty. Ltd. has advised that a major program has just been implemented to reposition the Company both as to its direction and the services it offers. This has meant a number of initiatives have been introduced to further the Company's growth. Among these has been the appointment of a Board of Directors to work closely with Mr. Poulton in the short term. Kevin has returned to the active day to day affairs of the Company. Lighting Sciences Australasia Pty. Ltd. along with its associated export arm, LightLab International holds an important place in the world of lighting. Since its inception in January 1986 as Australia's first independent and fully computerised photometric laboratory and lighting research centre LSA has built up a highly valued reputation with their test results and reports being widely respected throughout the lighting industry. This organisation can be reached on LSAlightlab@onaustralia.com.au or ph. (03) 9546 2188

International Visitor
The International Export Manager for Franz-Sill Gmbh, Germany, Mr. Herbert Volkmann recently visited clients in most states of Australia. Mr. Volkmann was introducing luminaires featuring some new reflector technology which provided increased LOR from 68% to 82%. He also described new prototype luminaires utilising the Sulphur lamp produced by Fusion Lighting advising that these would be in their display at the Hannover Trade Fair.

Latest - IESANZ National Convention 1997
The Convention Committee has appointed High Profile Exhibitions Pty Ltd. to run the trade exhibition. Already the originally planned exhibition space has had to be extended with over 40 exhibitors booked so far. This promises to be the largest lighting exhibition staged in Australia surpassing the impressive display mounted in conjunction with the 22nd Session of CIE held in Melbourne in 1991. Enquiries regarding the trade exhibition should be made to Tony Pool ( tonyp@c033.aone.net.au), phone 61-3- 9428 0415, fax 61- 3- 9428 9508.

Peter Szental, Chairman of the Convention Committee, says "This is the regions most significant gathering of lighting professionals, specifiers and users of lighting equipment. We've identified the need to expand the appeal of the Society's annual convention, mainly as a result of developments in Lighting Standards."

Next Issue
I am always pleased to receive lighting news from the manufacturing and specification areas of our industry in Australia / New Zealand. The success of this column rests with you, members of our lighting industry.

You can reach me at regrw@acay.com.au or local phone / fax no.is (02) 9488 7078.

© Reg R. Wilson Lighting Analysis & Design
---
[Home] [Search] [Gallery] [Design] [Comments]


inter.Light ©1996 inter.Light, inc.
Hosted by CREST