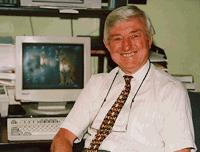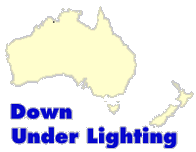 Reg. R. Wilson, MIES



---
7/97 © Reg. R. Wilson

E-mail comments or suggestions to regrw@acay.com.au.



Correspondent's Comment

Apologies for the delay in issuing this edition but put it down to an extended visit to the US after attending LightFair International 97 in New York and a total lack of available time immediately on my return. You will read about some aspects of this visit further on and for our International visitors you might find an Australian view interesting.

On the local scene interest by lighting people in the Internet is increasing and I join with the staff at inter.Light site in welcoming Rala Information Services, publishers of Lighting Magazine and based in Sydney, with their new site at http://www.light.rala.com.au. In this edition of Down Under Lighting we add a little personal interest along with some pertinent views and news. For our Australian visitors please advise me of interesting lighting things that you are contributing to the industry - just keep in mind our International reach is rapidly expanding with a monthly "hit rate" of almost 200,000. Let us tell the world about our industry in Australia. Please send news, views, comments complete with graphics (if applicable) by e-mail to regrw@acay.com.au.

Revision to the Standards Australia Street Lighting Code

During April Standards Australia published revisions to AS1158. This standard is now a combined Australian and New Zealand document and the sections currently available are AS/NZS 1158.0: 1997, Road Lighting Part 0: Introduction, ASNZS 1158.1.1:1997, Road Lighting Part 1.1: Vehicular Traffic (CategoryV) Lighting - Performance and Installation Design Requirements, AS/NZS 1158.1.3:1997, Road Lighting Part 1.3: Vehicular Traffic (Category V) Lighting - Guide to Design, Installation, Operation an Maintenance.

It should be noted that AS1158.2-1986 SAA Public Lighting Code Part 2 - Computer Procedures for the calculation of Light Technical Parameters for Category A Lighting (including the diskette containing the program SAASTAN) is still current as are the sections of Part 1 of the 1986 code which deal with road categories B & C. These categories are still being revised and will be published when all proposed modifications have been approved by the Committee.

Any person who has any involvement at all in Road Lighting should up date their Standards Library with these new and important documents.

Government Inquiry into Quality Outdoor Lighting

The Australian Capital Territory Legislative Assembly has appointed a Standing Committee on Planning and Environment with Michael Moore MLA as Chair with Roberta McRae MLA OAM as Deputy Chair together with Lucy Horodny MLA and Louise Little wood MLA. This committee has been directed by the Assembly to inquire into, and report on, the provision of quality outdoor lighting in the A.C.T.

The purpose of the inquiry is to identify strategies to protect and enhance Canberra's night sky, taking particular account of : ( i ) minimising light pollution having regard to safety, security and tourism concerns; (ii) requiring the Department of Urban Services to develop performance indicators for the lighting of streets, paths, and other outdoor spaces to ensure that spill light, skyglow and other wastage is minimised; (iii) tougher legislation to govern private outdoor lighting and (iv) the basis of a cooperative Federal / A.C.T. agreement on outdoor lighting in the territory.

Public submissions were invited and as this edition is posted the Committee is holding a series of hearings in Canberra. Your correspondent has been invited to appear before the Committee and you will be advised of the outcome of this much need inquiry. The A.C.T. Legislative Assemby is to be congratulated on this action and it is hoped that this forward thinking attitude will be adopted by other arms of Government in Australia to improve the night sky environment.

"Perfect Lite" Lighting Software

April 1997 saw the release of the latest version of the Australian developed lighting design software called Perfect Lite. Perfect Lite is in fact a range of DOS based lighting software products especially for exterior and road lighting applications. Some of the products available are a general-purpose exterior lighting design program; an interface program for the SAASTAN road lighting program; various photometric data conversion programs; and an Upward Waste Light calculator.

The latest version of the exterior/road lighting component includes enhancements associated with the recently revised Australian and New Zealand road lighting Code AS/NZS1158:1997. At this stage the Code includes only changes relative to major roads with the revision for minor roads being available by possibly the end of the year.

One of the Light Technical Parameters introduced in AS/NZS1158:1997 was the Upward Waste Light Ratio in an attempt to control spill light from road lighting installations. The UWLR is essentially the ULOR of a luminaire but with the tilt (or upcast) of the luminaire taken into account. The PLEUWLR program was created to calculate this value for any luminaire photometric I-table (CIE/SAASTAN format) for any range of upcast angles. See screen snapshots from the program.

For more details on the use of this program and its relevance to Standard AS/NZS 1158 together with any queries on other lighting software available from Trevor Caswell Software please visit http://powerup.com.au/~trevorc/index.htm

IES National Lighting Convention and Expo Update

The IES 97 International Lighting Convention and Expo at Melbourne's Carlton Crest Hotel, October 27-29 1997, looks set to break records for the Illuminating Engineering Society of Aust & NZ.

The convention program is nearing finalisation, and the IES convention committee is confident that speakers and topics already confirmed will make this year's event the most informative and valuable for many years. Speakers have been confirmed from all over the world and include Diarmuid McSweeney of Holophane (USA), Howard Wolfmann of Motorola (USA) and Mr T.Iida of Iwasaki Electric (Japan).

Local presenters include Kevin Poulton (Lighting Sciences Aust.) delivering the Dresler Memorial Lecture: "Daylighting in Buildings - the Dresler Dream", Ian Wilson (Standards Australia) "Past Present & Future", Barry Webb (Barry Webb & Assoc.) "Lighting the Victorian Arts Centre Spire", Rob Adams (Director, City Projects, MCC) "Melbourne - City of Light".

IES 97 also includes a program of informative Workshops for Electrical Contractors and Retailers. Subjects covered will be Extra Low Voltage Lighting, Power Supply Quality, Emergency & Exit Lighting. Sessions are timed to enable contractors and retailersí staff to attend without being "off the job" for too long. Several are breakfast sessions.

The Lighting Expo at IES 97 is the biggest in recent times. Over 40 booths have been booked, making it a "full house". Exhibits range from commercial, public and safety lighting to exterior, domestic, effect and entertainment lighting.

Recent additions to the list of exhibitors include Lightmoves, Italstyle, Fibre Light Systems, Middendorp Electric, Lighting Australia, Mayfield Lamps, Masson for Light and Rham Industries.Conference Registration forms will be in circulation from the beginning of July. Trade invitations for those who wish to visit the expo only will be distributed in September. Interested parties should contact High Profile Exhibitions on FAX: 613 9428 9508 to ensure their names are on the mailing lists.

More information about IES 97 can be found in the IES/ANZ web site.

Your Correspondents Report on LightFair International 97

The best attended and most successful LightFair was held at the Javits Convention Centre in New York during the last week of April. Over 15.000 architectural, engineering and design professionals attended and were treated to a superb conference program and a trade floor with 827 booths and 341 exhibitors. The increasing international importance of LightFair is evidenced by the attendance of visitors from 58 countries.

Europe, Asia, Australia and Mexico were best represented, I saw a number of Australian faces both on tne trade floor and attending the seminar program. Several that I spoke with advised that it was their first LightFair but would place on a "must attend" basis in the future.

A highlight for Australia was the awarding of the prestigious "Best New Product of the Year" going to a local product - the Slite from Intralux which was entered by Alko Lighting who are the US partner of Intralux. Congratulations to David Tilbury and his team!

There is insufficient space to fully describe this first class show which is sponsored by IALD, IESNA and is produced and managed, most effectively, by AMC Inc. Both inter.Light Inc . and Architectural Lighting Magazine were sponsors of the New Products Showcase which was a sellout with all 800 seats being taken. This was, as is usual, a spectacular presentation and definitely a highlight of the show.

By the way LightFair International 98 will be held in Las Vegas (for the first time) on May 27 - 29 with a preshow conference on the 26th. Contact Renee Gable for Conference program information on 1-404-220 2217 and for exhibitor information the contact is Libby Morley on 1-404-220 2215. I strongly suggest you put this into travel plans for next year.

Travellers Tales

After LightFair I travelled South to Virginia to see Charles Troxell of Lighting Images Technology Inc. to get an update on lighting software. Those attending the 1994 IES Convention in Sydney will remember the interesting presentation he gave on the part computers play in our industry and his follow up half day seminar. The story from Charles was "how fast is your machine". It would seem that program developers are taking every advantage of the ever increasing speed of microprocessors and auxilliary components. The amount of RAM now considered a "must" is 64Mb (that is more than my first hard disk drive!) .

Presentatation is rapidly becoming a major consideration which is great from the clients view point. Need I mention that Charles has a column on this site where he reviews the latest in lighting software - check it out after you have read this section.

The next "lighting" port of call was Boulder,Colorado where I had discussions at the University of Colorado relative to the dark sky situation. This city has an ordinance which severely restricts the amount of upward light and it was a pleasure to drive in and walk about during the night. Then it was onto Tucson, Arizona where a most practical and rigidly enforced lighting ordinance applies. I had a most informative discussion with Richard ("Dick") Guthrie P.E., Traffic Operations Superintendant for the City of Tucson. I hope that I have persuaded Dick to write a description of just how well this Ordinance works for a future edition of Down Under Lighting.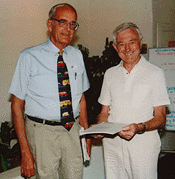 The picture shows Dick and I discussing our AS 4282 (Int) which he thought was definitely a step in the right direction for areas where astronomy observatories do not demand really restrictive standards.
During my stay I also spent some time Dr. Dave Crawford who heads up the International Dark Sky Association. Dave gave me an extensive night tour of Tucson and showed how effective the ordinance was.I also attended a discussion group meeting with IES and IDA members where the practical aspects of restricting unwanted upward light were covered.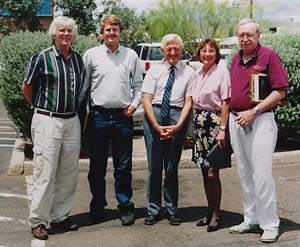 This picture shows (l to R) Dr.Don Davis - IDA, Christian Monrad - IES, Reg, Mary Crawford - IDA and Dave Crawford - IDA.
These discussions and others during LightFair has convinced me that there is a substantial ground swell of opinion for restricting waste upward light as part of good engineering practice. The accent is on waste as it is sometimes necessary to have upward aimed luminaires. Several complimentary remarks were passed by engineers who have looked at our locally developed lighting design software from Rayforge Services to assist in designing where upward light and intensity restrictions apply.
Energy Efficiency in New Zealand
This page was recently contacted by Cathy Sheehan the Editor of Energy-Wise News, a publication of the NZ Energy and Conservation Authority who provide a Web page for an electronic edition. As you see from the title, the Authority covers all aspects of energy conservation but lighting gets some coverage. Check out http://www.energywise.co.nz and look for the archives link to read earlier issues.
Gwenyth Ewans Scholarship of 1996
John Goodall, President of the IESANZ, has announced that at the from the submissions received for the Gwenyth Ewans Scholarship the IES Central Council has decided that the Award should go to a project submitted by J.Derrick Kendrick FIES from South Australia to complete a biography of the late Dr. Albert Dresler : Lighting Engineer. Mr Kendrick has already gathered a good deal of information about Dr. Dresler, his early life in Surbiton, England; his distinguished career at the Berlin Technical University and then at Osram, Berlin in the 1930's. After the war, Dr.Dresler emigrated to Australia undre a special scheme for German scientists and worked in Melbourne as a Senior Engineer at the Department of Labour And National Service. In the 1950's Dr. Dresler was responsible for teaching a very high quality illumination course at the Royal Melbourne Institute of Technology and many of his students, present day lighting practitioners (including this correspondent) owe a great deal to him. Dr Dresler became Secretary to IES National Council and was Chairman of the ANCI until his premature death in 1963.
Mr Kendrick would be interested to hear from any readers who may have known Dr. Dresler, the "Doc" as he was often referred to, and paricularly from any of his lighting students. Mr. Kendrick would be very interested to obtain a copy of the lighting notes he used for his teaching at RMIT as well as his correspondence course students. Any recollections, anecdotes, stories, documents, letters etc.,which can be added to to the information already held by Mr. Kendrick would help to expand the story of this outstanding man, arguably one of the one of the mos significant and eminent lighting engineers ever to work in Australia.
Contributors should write to J.D.Kendrick, 17 The Parkway, KLEMZIG, South Australia 5087, Australia. E-mail to dkendric@arch.adelaide.edu.au
Export Success
Australia is now recognised in overseas markets as a a quality supplier of world class luminaires. Russell Gray (slsales@spectralighting.com.au), Managing Director of Spectra Lighting is proud too report on the impressive results his company has produced in recent years. Spectra Lighting now exports regularly to 10 countries their range of Australian designed and manufactured luminaires for architectural, industrial and mining applications. This latter category is in constant and growing demand throughout South East Asia.
Based in Queensland, Spectra's products are designed for the hot humid climate experienced in the North of Australia and are often preferred in countries with high ambient temperatures to some European designed products with lower temperature ratings, especially when this characteristic is combined with a 5 year warranty.
Last year Spectra supplied their Ace tennis luminaire to the largest tennis court development in the Peoples Republic of China. This year their Scenario floodlight has been used to highlight the new Hare Krishna Temple in Bangalore, India.
International Architects, Lighting Designers and Consulting Engineers are increasingly approaching Australian luminaire manufacturers for high quality luminaires at competitive prices.
New Premises for Intralux
Award winning Australian lighting company, Intralux Australia Pty Ltd, have announced that their move to new purpose built premises is now complete. Located at 23 Enterprise Street, Richlands, Queensland 4077 they can be contacted on :- Phone (07) 3375 9333, Fax (07) 3375 9444 , International Fax 61-7-3375 9444, Email info@intralux.com.au Web Site http://www.intralux.com.au. As this is new contact information it is suggested that you adjust your records accordingly.
Next Issue
Right now is the ideal time for news etc to be forwarded to me for the next issue and I really would like some more input from the Land of the Long White Cloud.

You can reach me at regrw@acay.com.au or local phone / fax no.is (02) 9488 7078.

© Reg R. Wilson Lighting Analysis & Design
---
[Home] [Search] [Gallery] [Design] [Comments]
inter.Light ©1996 inter.Light, inc.
Hosted by CREST