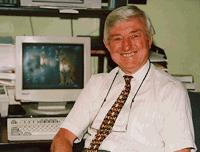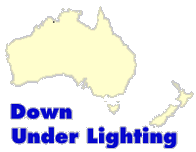 Reg. R. Wilson, MIES



---
10/97 © Reg. R. Wilson

E-mail comments or suggestions to regrw@acay.com.au.





Correspondents Comment

Welcome to "Down Under Lighting". During the posting period of this issue the 42nd Annual Convention of the Illuminating Engineering Society of Australia and New Zealand will be held in Melbourne and a report on this will appear in the next issue. Note that the 43rd IESANZ Annual Convention will be held in Brisbane in November 1998 and preliminary details appear below.

During the posting period of our last issue inter.Light further extended its International approach by starting a separate section for specific countries and Australia is the first with New Zealand to be added shortly.

Each country will have links to interesting reference sections with technical and general information relating to the lighting industry. This presents an ideal opportunity for us to extend our International reach in light technical matters. Contributions and / or queries can be sent to either Dave Burtner (President of inter.Light) dkb@light-link.com or myself - regrw@acay.com.au I must thank our friends from across the Tasman Sea for their contributions to this issue especially Brian Ellis and Peter Kilby.

Thanks also to those companies who contributed information for this issue. The need for information, with illustrations, is on going so please keep me informed of your activities in the lighting industry.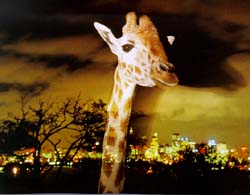 Taronga Night Zoo
Last year this column reported on the success of energy Australia's Taronga Night Zoo at Sydney's famousTaronga Zoo and as the installation has been extended a more detailed report is warranted. Night Zoo is sponsored by electricity utility, Energy Australia. This award-winning project now features about 65% of the Zoo exhibits to be viewed under carefully designed and installed lighting. Co-designers Phil Dunesky (Sydney Opera House) and Colin Reid (Zoo Chief Electrician) together with Australian luminaire manufacturer, Lumiscape, now have an installation comprising over 2000 light sources fed by more than 20 kms wiring. Taronga Zoo features 50 separate exhibits and covers 31 hectares (77 acres) and is situated right on Sydney Harbour with the city providing a spectacular back drop. This world-famous view is even more impressive at night with city lighting providing an enhanced dimension including the Sydney Opera House and the Harbour Bridge.
This carefully researched lighting project is intended to provide a totally different different zoo experience without causing any discomfort for the animals. The lighting installation had to be ìinvisible - - during the day and at night provide a "moonlight" effect. To this end considerable effort went into the development of a special blue glass filter which is now commercially available as "Zooblu". The main light source is a 20W MR16 fitted in Lumascape cast bronze hooded fixtures which accept both the required filter and a spreader lens where required. The control of the installation is divided into two separate areas with the pathway lighting being of major importance. This is controlled by a 9 zone, computer controlled ìC-busî system with modem switching 4 channel dimmers. The computer program sets the dimming levels and the switching periods etc. Radio signals from a centrally mounted aerial control the modems. Each area has its own diesel standby generator in case of a mains supply failure when all lamps will come on at full power. This is a well engineered system and Colin Reid deserves commendation for its development and successful installation.
This installation is a "must see" for anyone connected with the lighting industry. Due to its immense popularity booking is essential (ph.(02) 9978 4708, international 61-2-9978 4708) for the limited viwing season. NightZoo is open this year from 5.30 - 9.30pm each Wednesday to Saturday during the month of October. International visitors should have their travel agent make the necessary bookings well ahead.
We gratefully acknowedge permission to use the photograph which is the work of acclaimed newspaper (Sydney Morning Herald) photographer, Rick Stevens.
Special IALD Meeting in Melbourne
Are you are interested in lighting design excellence? Do you believe we need to promote excellence in the practice of lighting design? Should lighting designers be better recognised? Then the forthcoming meeting will be of interest. The International Association of Lighting Designers will host an event for members and all others interested in lighting design on Wednesday 29th October, 1997 at the Carlton Crest Hotel in Melbourne immediately following the IESANZ Conference. You are cordially invited to attend the IES Conference (cost IES members $495 Non-members $525) as well as the post conference discussion regarding the IALD (no charge).
If there is sufficient interest from local designers, the IALD will create a division of the body to represent the SE Asian market. Currently the headquarters is based in New York and the association has a division in Europe. IALD Members are encouraged to invite guests who have an interest in the IALD as well as those who just want to learn more about the lighting design profession. Anybody who is interested in lighting design is most welcome to attend.
Date: 29th October 1997

Venue: Carlton Crest Hotel, Queens Rd, South Melbourne

Time: 1.30 pm Barry Hannafordís & David Birdís presentations to the IESANZ

Conference:

3.30 pm IALD general discussions
4.30 pm Cocktails and light refreshments
6 pm Close

Please RSVP by 21st October 1997, by faxing your response or calling David Bird on:-

Tel: 03 - 9613. 9222. Fax : 03 - 9629. 3929. Email: dmbird@visiondesign.com.au.

The IALD gratefully acknowledges the support being provided by the IESANZ in the preparation for this meeting.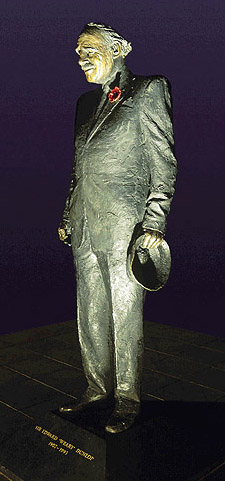 Statue Lighting
The availability today of uplights with sophisticated light and glare control has extended the boundaries of their usefulness and application. The Sir Edward "Weary" Dunlop statue in St Kilda Road Melbourne is an excellent example of the benefits of using inground luminaires.For this project the designer wanted a single unit capable of washing the statue from top to bottom. The unit selected incorporated a 20 degree asymmetric lens combined with medium reflector and 70W compact Metal Halide lamp.
Positioned at 45 degrees to the normal viewing angle excellent modelling was achieved. However the designer wanted more; the uplight had to provide wash illumination right down to ground level. Amongst the manufacturer's family of accessories was to be found a 180 degree sculpture lens; this device working in conjunction with the main glass effectively 'pulled' the beam down to ground level... exactly as required!
The lighting equipment for this project was supplied by We-ef Australia Pty Ltd.
Presidents Report
The President of the IESANZ(NZ), Ron Davis, reports to the Central Council and Society Annual General meetings contained a number of favourable comments regarding the increased growth and activity seen in the Society during the past Year. He said "Our membership this year has experienced very healthy growth with total membership increasing from 151in June last year to 169 by July 1997. A significant growth was experienced in the Christchurch region, with approximately 10 new members being recruited."
Regarding other important areas he reported as follows - "Over the past year the IES have had some input into issues involving Standards and Building Codes. We agreed this is an area which requires closer attention and more pro-active action, and to this end will ask the incoming Council to focus more seroius attention to these issues. Educational involvement has also progressed this yeat with numbers attending the Auckland Institute of Technology now increasing to approximately 70 per year. The same 2 year course has been put into place in Christchurch with first year students enrolling in February of this year. It is hoped to replicate these courses in the Wellington region to complete the geographic coverage."
Diary Note - 1998 IESANZ Annual Convention
The IESANZ 43rd Annual Convention will be held over the 8th - 11th November 1998 in Brisbane, sunny Queensland. The theme for the Convention is "Lighting Techniques and Technology" and the venue selected is the Carlton Crest Hotel, centrally located in Brisbane.Queensland in November is an ideal time to add a weekend or two to your trip so you can enjoy some of the many attractions located within easy reach of Brisbane. Make a note of the dates now and if you require further information please contact the Secretariat on phone (07) 3217 7553 (Int. 61-7-3217 7553) or fax (07) 3217 7544 (Int. 61-7-3217 7544) or E-mail to iesqld98@qut.edu.au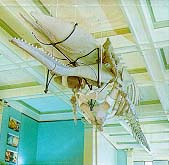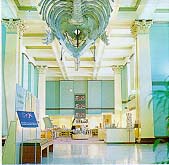 Whale of a Time
Ever wanted to have a whale of a time? Well, luminaire manufacturer Pierlite recently had this in a lighting sense. How do you illuminate a whale? Very carefully! "In illuminating an object such as this it is important not merely to 'throw' light at the subject but rather use a more theatrical approach to reveal some form and depth. This effect is produced by using both key in-fill lights to gain the desired 'modelling'." This was the initial advice of Pierlite's Lighting Designer Greg Morris to the Australian Museum on lighting a whale exhibit in the Museum's foyer.
"In-ground uplight luminaires are an excellent way to provide a soft wash of light from directly below the skeleton, the luminaire needs to have a narrow-beam distribution to project sufficiently to the 4.5 - 5 metre height of the object."
The recommended lighting units were Pierlite Simes 4470 recessed in ground Walk or Drive/Over. Three units were required at approximately 3.5 meter spacings. To provide a dramatic element to the entire display Pierlite recommended the use of three programmable Hoffmeister RC Movie spotlights to 'track' up, down and across the skeleton structure in a predetermined sequence that would literally 'bring to life' the great whale. In his designer's eye, Greg saw "Coloured filters in the three primary colors of red, blue and green that will intermingle to produce white-light occasionally and wonderful multi-colored 'shadows' on the different angles and shapes of the skeletal structure at other times."
This display at the Museum was a 'unique' and a brilliant showpiece for the talents of Pierlite's lighting designers.
Further Information on EMC Standards
As the recently introduced Standards continue to create much discussion. In earlier issues of this column this subject has been commented on. In order to provide a concise and clear picture of where we are at this time well known lighting identity John Rogers from GEC Lighting has recently produced a report which does just that. Look under the link Technical Features on the Australian page for this report and one issued earlier this year by Dr. Alec Fisher on the subject of Standards.
Call For Papers
The IESANZ 43rd Annual Convention will be held over the 8th - 11th November1998 in Brisbane, Queensland Australia. The Convention is being hosted by the Queensland Region of the IESANZ, and the theme for the conference is "Lighting Techniques and Technology".We would like to receive expressions of interest from speakers willing to present papers generally related tothe theme of the convention. In the first instance, please provide a synopsis of your topic together with contact details to :
IESANZ (Qld)
Attention : Neil Wills
email : iesqld98@qut.edu.au
facsimile : + 61-7-3271 5777
post :
IESANZ (Qld.),
Level 1 Taringa Circle,
165 Moggill Road, Taringa, Queensland, Australia 4068
Lighting Sciences Australasia Pty. Ltd.
Following a review of operations, which this column reported on earlier this year, Kevin Poulton has annnounced a number changes to the Lighting Sciences Australasia P/L organisation. Effective now the the very highly regarded NATA accredited photometric laboratory will trade as "Lightlab Sciences" and will be managed by Michael Fisher, a long time employee of the company.
A new company has been formed to develop new areas of business and is known as Light International Pty.Ltd. This will, initially, be made up of three divisions : a consulting division, Lightlab Solutions, which will be managed by Kevin Poulton, a division to specifically develop and promote a new service to industry, Lightlab Software managed by Glen Paraman and the third, Lightlab Systems which is managed by Sabyasachi Bhattacharya will promote and supply photometers and other ancilliary equipment to laboratories and manufacturers in off shore markets.
The new Lightlab Software service will allow subscribers from industry direct access to a library of manufacturers products and systemswith all accompanying photometric data. Although no longerr responsible for the sales and service of the AGI computer program from Lighting Analysts Inc. of the USA, this division will offer a new service which will complement present and future AGI users.
For further information re the operations of Lightlab International Pty. Ltd. contact them on :- Phone 61-3-9546 2188, Fax 61-3-9652 3717, e-mail LSALightLab@onAustralia.com.au. Web page www.LSA.com.au
Government Inquiry into Quality Outdoor Lighting
This inquiry by the A.C.T. Legislative Assembly Standing Committee for Planning and Environment was reported in our last issue. All hearings are now complete and the Committee under Chairman Michael Moore MLA is undertaking the daunting task of assessing all material presented both at hearings and in written submissions. No time table has been advised but the original intent was to have at least some preliminary findings announced before the end of the year.
IESANZ - New Zealand Design Awards
24th September saw this years NZ IES National Design Awards announced at a gala function in Auckland. A brief comment on this most successful presentation follows but shortly a more detailed description of the winners will appear on this site. Brian Ellis, Awards and Judging Convenor, advised that that this years event attracted 24 entries in the Lighting Design Awards over 7 categories and 17 in the Luminaire Design Awards. The most highly marked awards will be selected for entry in this years IESANZ International Lighting Awards in Melbourne at the end of October.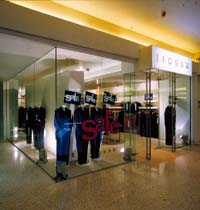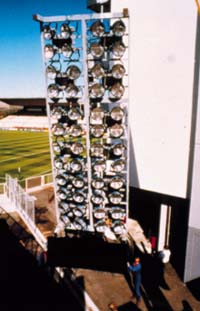 In the retail sector Jigsaw, Shore City Galleria (Architect, Sumich Architects & Supplier Targetti NZ Ltd.), won a Highly Commended Award. The judges in the outdoor sector were impressed with the entry by Phips NZ Ltd for their Mobile Floodlighting System. This system won a Premier Award for Chris Huff and Ross Pedan of Philips and Project Managers, Octa Associates.
The strength and high quality of the entries shows that New Zealand has a highly developed lighting industry and in turn this actively supports the IES.
Other NZ News
Shortly the link "International Focus" on the home page of the inter.Light web site will add New Zealand to its list of its featured countries. This column will also be accessed on that countries page as will technical features etc. along with data base of suppliers and services. Any queries can be addressed either to this column (regrw@acay.com.au) or directly to Dave Burtner at inter.Light (dkb@light-link.com).
Next Issue
As always I ask that you please support this column withg new and views in order to present a good picture of our industry to International visitors to this site. Photographs (digital or hard copy) are always welcome.

You can reach me at regrw@acay.com.au or local phone / fax no.is (02) 9488 7078.

© Reg R. Wilson Lighting Analysis & Design
---
[Home] [Search] [Gallery] [Design] [Comments]
inter.Light ©1996 inter.Light, inc.
Hosted by CREST