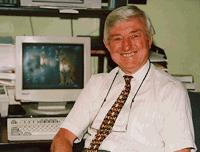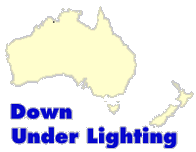 Reg. R. Wilson, MIES



---
4/98 © Reg. R. Wilson

E-mail comments or suggestions to regrw@acay.com.au.



CORRESPONDENTS COMMENT

A quick turn around this time - and if you feel that you might have missed an issue please use the archive link at the bottom of this (and every) issue to look at all of the earlier postings of "Down Under Lighting". The quick turn around is due to your correspondent travelling overseas again, visiting the UK and the US. In the US where I will be making a presentation on "Action on Obtrusive Light in Australia" and will be describing our new Aust.Standards including AS4282 and their application and demonstrating software developed by Rayforge Services to the 10th AGM of the International DarkSky Association (IDA) in Tucson Az. I will be commenting on this as well as two other important lighting events I will be attending including LightFair International '98 in the next issue. For our International readers, if you are attending LightFair and would like to say "hello" just leave a message at the inter-Light stand. I would be pleased to meet you and talk about lighting in Australia.

Obtrusive Light and Astronomy

The accent on this issue is outdoor lighting and obtrusive light. This is partly due to news items received and some personal business activities which involved our major astronomical observatory - Siding Spring.

For those of you who have never visited this Observatory or the one at Mt. Stromlo in Canberra I thoroughtly recommend that you look at two Web pages (links below) describing each operation. On the mountain called Siding Spring (about 28km from Coonabarabran in N.W. New South Wales) there are a number of important instruments (8 in fact) with the most important being the 4m Anglo Australian Telescope (the AAT) which is a joint UK / Australian operation. The UK also operate their Schmidt telescope whilst the managers of the site (Australian National University) have four instruments there, the largest being the 2.3m telescope. Our pictures show the AAT and the two main ANU instruments.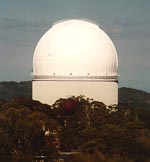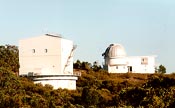 It is recommended that you visit the Anglo Australian Telescope site and the A.N.U. site which also describes the Mt Stromlo Observatory at Canberra in the Australian Capital Territory. to obtain more detailed information plus interesting links to other astronomical sites.
Australian National Maritime Museum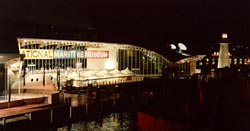 The Australian National Maritime Museum is more than a museum of ships and things nautical - it is an exciting description of the history of Australia (the largest island in the World) as it's discovery and development is inevitably linked to the sea. The extensive displays not only cover the days since early European exploration but also dramatically detail some of our Aboriginal history. These features plus an extensive floating fleet moored beside the Museum makes it a "must see" when visiting Sydney.
Recently Philips, one of the many supporters, provided an update to the exterior floodlighting ( yes - there is extensive interior floodlighting a well - come and visit to experience this example of museum lighting). Philips employed their Tempo asymmetric floodlights mounted under the roof to wash the facade and their new Decoflood to light the banner and the lighthouse.
Sydney Outdoor Lighting Improvement Society
Col. Bembridge of the Northern Sydney Astronomical Society advises that at a recent meeting at the Sydney Observatory a number of persons interested in reducing sky glow in the Sydney formed a group which is titled SOLIS - for Sydney Outdoor Lighting Improvement Society.
Regular monthly meetings are to be held at Sydney Observatory on the third Monday of each month at 7:30 pm. All interested parties are invited to attend. They are particularly seeking group or corporate membership (membership fee $50), as well as interested individuals. Col says "We will be compiling and distributing a package of light pollution related information and probably a small coloured brochure in the near future.
There was a SOLIS award for Good Outdoor Lighting Practice presented at the NACAA (National Australian Convention of Amateur Astronomers) at Easter. This award is sponsored by the Binocular and Telescope Shop. There were 7 nominations for this award, which included a church, a Council tennis court, a sporting complex, a public building and several shopping precincts. These were judged by the committee who nominated the Willoughby City Council's Small Street Leisure Centre as the recipient of the Award.
Lighting Industry participation is most welcome to assist in the practical understanding of exterior lighting. Please contact Col at bembricc@minerals.nsw.gov.au
Customs House - Sydney
The historic Customs House situated at Sydney's Circular Quay is being developed into a cultural centre and the exterior lighting of the forecourt and building it self was commissioned just before Easter. The forecourt lighting employs Thorn Lemnis 250W M.H. cutoff streetlighting lanterns mounted on the first of the newly developed City of Sydney Multi-Function Street Pole (MFSP) System poles. The MFSP System will be described in a future edition of this column as its innovative features deserves detailed comment. The lighting design of this project was carried out by the office of Flannigan Lawson Engineers.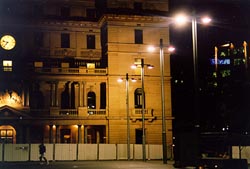 Quay Street - Sydney
The City of Sydney is undergoing a massive facelift in preparation for the new millennium, the 2000 Olympics and the Centenary of Federation in 2001. The CBD is much of this attention and to the credit of the Council of the City of Sydney, considerable emphasis is being placed on lighting I general but especially street lighting with the requirements of pedestrians receiving special attention.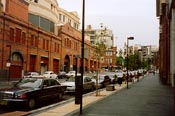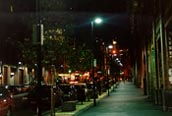 One example is Quay Street which has high pedestrian, low traffic volumes requiring a rather different approach to conventional streetlighting practice. The office of lighting consultants, Barry Webb & Associates combined the aesthetic daytime requirements of having an attractive installation with meeting the night scene needs of low glare, excellent pedestrian visibility and a high degree of pavement uniformity.
The lighting units selected were Kim Curvilinear (IESNA type III dist.) fitted with 175W 4000K metal halide lamps mounted on 5m poles with a spacing of 15m. The illustrations show the effectiveness of the cut off characteristic, even light distribution as well as pleasant appearance both in day and night situations.
IESANZ National Convention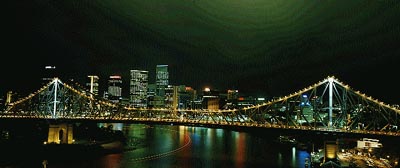 Lighting '98 - Techniques & Technology International Lighting Convention & Trade Exhibition being held from the 9th - 11th November 1998 at the Carlton Crest Hotel in Brisbane, Queensland is set to go. The organising committee advise that this promises to be an outstanding IESANZ Convention with a program of eminent speakers including, as keynote speaker, Howard Brandston, Principal of H.M. Brandston & Associates.

The Trade Exhibition provides an opportunity to inspect a wide range of lighting products and services marketed in Australia. Always a popular adjunct to the technical papers programme this years event has been strongly supported by the industry.
Details for registration will be announced soon but mark the dates in your diary now. Allow a few extra days to look around this friendly city which has always been renowned for its easy going lifestyle. The famous Gold Coast with its superb beaches and exciting night life is only a short drive away. Visit the IESANZ Convention Web site for more details.
Next Issue
For our overseas visitors to this column I would not want you to think that the City of Sydney is the only major city in Australia featuring interesting lighting projects but most of our news seems to come from from there. The message to our friends in the lighting industry resident in Melbourne, Brisbane, Adelaide Perth etc. it is - please send contributions (illustrated if possible) for future issues. Note also that constructive letters and comments are also welcome.

You can reach me at regrw@acay.com.au or local phone / fax no.is (02) 9488 7078.

© Reg R. Wilson Lighting Analysis & Design
---
[inter.Light]

inter.Light ©1998 inter.Light, Inc.