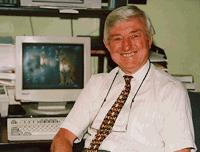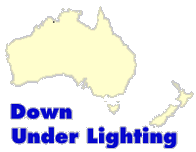 Reg. R. Wilson, MIES



---
10/98 © Reg. R. Wilson

E-mail comments or suggestions to regrw@acay.com.au.


Correspondent's Comment

It is most probable as you are reading this, that the IESANZ Annual Convention is either about to or is taking place in Brisbane. I have the pleasure to be reading a paper on what is perhaps the greatest advance in communication since people started to use the written word. You will be aware, by reading this column, that I am a great supporter of the Internet, so my contribution to the Convention is "Lighting and the Internet". I believe this medium to be much under-utilised by our profession generally, and hope that my comments will assist in a better understanding of what is possible and how lighting professionals in other parts of the world are taking advantage of the benefits.

During my visit to the UK and the US in April/May of this year, several colleagues were quite surprised by the advances being made in our profession in this country both in products and Standards. I did point out that via this column, I try to advise of what we are doing in Australia, and hopefully gain a few more readers. However, the most important method of reaching the lighting world at this time is via the Internet especially through the WWW. It must be realised that simply posting a page on the Web is not enough. The content and the currency of same is most important, as is ensuring that the major search engines have recognised each of your specific product applications. It is also important to have a listing on a specialised searchable database like the site you have just visited. If the major search engines do not pick up your product then the chances of it being seen by a wide audience are greatly reduced. For those of you reading this before Lighting '98 in Brisbane, I hope that you will find time to attend, listen and discuss the subject with me.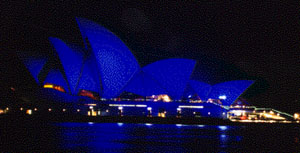 Philips Blue Opera House
Sydney's arts and entertainment festival has been given new, revitalised face-lift for the 1998 programme. Taking place from January 3-26 the 22nd Sydney Festival has, under the direction of Leo Schofield adopted a vivid blue theme. This signature colour was derived from the avant-garde work of Yves Klein. He was deeply touched by the "Blue Globe" after being observed by the first Russian Astronaut in 1957.
From this vibrant philosophy an ambitious proposal was conceived to bathe the shells of the Sydney Opera House in blue light. This would form a spectacular backdrop to the many exiting events in the festival calender. However, as design analysis progressed it was soon realised that the colour selected would require a filter that would transmit only some 5% of the light striking it. This meant that in order to achieve a reasonable effect some very high intensity lighting equipment would be required. The Philips ArenaVision floodlight was found to provide the ideal solution. Its 1.8 kW MHD metal halide lamp and various reflector spreads meant that it was able to offer the strength of effect, and also to provide beam widths to suit the various aspects of the design. This floodlight was originally conceived for sports lighting applications, but has increasingly found a niche in city beautification projects. A site trial was undertaken to judge a number of different filter colours and the beam impression.
The design was not only to provide a blue Opera House, but an attempt was made to highlight it in a way in which it is not normally illuminated. The house is usually floodlit from two masts; one to the east (off the Man O'War jetty), and one to west (off the Sydney Cove concourse). These were used to locate four floodlights each to provide a base level. These existing masts could not support the amount of floodlights that were estimated to be required, so it was decided to position extra floods closer to, and around the perimeter of the outer shell surfaces. Also, the inner surfaces of the "cleavage" would be treated. All together the various layers in the scheme would integrate to expose the house in directions where it is normally perceived as dark.
To make the design work custom scaffold towers were commissioned, and special frames were designed to hold the glass colour filters. Final assembly on site revealed the need for some fine tuning to best cover the complex shapes of the shells. Extra floodlights were added, to bring the total tally to 30, and some changes in beam spreads were made. The result is a dramatic pageant of one the worlds most recognised buildings.
Special thanks to Yvonne Hockey and Janet Eades at Sydney festival, lighting designer Alan Stone for the late nights in final commissioning, Graham Ashwell of Ashwell Electrical, Miffy Hayward at Blue Sky Design, and to Lee Conlon at Showcraft for the filter technology.
ACT Legislative Assembly Lighting Enquiry
This enquiry has been mentioned in the last three issues of this column and in the last issue the findings of the Committee were published as Report No. 38.
Now, the Legislative Assembly has put forward some recommendations for discussion, which will take place shortly. These are detailed on an attached Technical Feature as Report No. 38 - Recommendations. It is disappointing to note that several key findings have been set aside, as well as some others being diminished in their potential effectiveness. Perhaps the greatest let down was the non approval (at this time) of Recommendation 10 - the preparation of an outdoor lighting strategy for the A.C.T. This location presents an ideal location to practically investigate and implement such a strategy as it combines commercial, architectural, industrial and residential areas where the effects can be readily studied and monitored. It is suggested that the Committee be lobbied by interested parties to review this decision in the near future.
St Paul's Cathedral - Melbourne

WE-EF Lighting provided us the third in their occasional series of interesting lighting projects they have been associated with. High quality wall washing has traditionally been the province of specialist interior architectural lighting manufacturers from the US and Europe. Increasing sophistication in the application of light from outdoor commercial fittings has coincided with the arrival of uplights capable of providing similar performance characteristics. For the St Paul's Cathedral project, the uplights specified by Consultants, Barry Webb and Associates incorporated compact low wattage "white SON" lamps which deliver warm, high colour rendering illumination to the sandstone facade. Compact HID sources provide high efficiency and good light control in the desired delivery system.

Providing even wall wash performance from a flush-mounted housing and with a compact light source creates something of a challenge. The technique employed here was to combine two lenses with very specific functions. The first directs the light towards the surface being illuminated and the second acts as a "spreader" with a primary role of enhancing overall uniformity and the secondary role of diminishing "hot spots".
Traveller's Tales
Once again (four consecutive years now), I visited LightFair International which this year was held in Las Vegas. This has already been reported in Lighting Magazine but for those who do not receive this publication it was yet another spectacular event featuring excellent seminars and an ever-expanding floor exhibition, with this year, over 700 exhibits. Also increasing is the diversity of products, with more component manufacturers, along with suppliers of instrumentation and pleasingly, more lighting software developers. Major manufacturers are taking advantage of Information Technology supplying not only programs but also catalogues on CD ROM. Las Vegas is not called the City of Light for nothing, it being possible to take photographs without the aid of flash along The Strip. It was interesting to note that most street lighting used cut-off luminaires, as did carpark lighting etc. but when it comes to the decorative sphere, just about anything goes. The number of Australian faces at LightFair seemed much higher this year than previously. Next year, LightFair will be in San Francisco, and in New York the following year, and for those who like to really plan ahead it will be in Las Vegas again in 2001. LightFair International is sponsored by IESNA, IALD and AMC Tradeshows. This event provides an excellent financial return for both IESNA and IALD. If any Aus/NZ reader has any queries regarding this impressive trade show do not hesitate to contact me regrw@acay.com.au.
I also attended the 4th International Lighting Research Symposium "Vision at Low Light Levels" presented by the Electric Power Research Institute (EPRI) which was held in Orlando, Florida. A total of 19 sessions combined with Moderated Panel Presentation with well known lighting researcher Dr. Peter Boyce of the Lighting Research Centre, Rensselaer Polytechnic Institute as Moderator covered the subject of Photopic, Mesopic and Scotopic Vision in great detail with emphasis being placed on the Mesopic (Nighttime and Twilight) range. The two major points which were emphasised were that work done to date lends considerable weight to the application of a revised eye sensitivity curve is necessary for lighting application in the Mesopic Region and that revised photometry principles may be necessary to fully apply these new findings. Whilst the shape of the standard curve remaind vitually unchanged the peak now appears nearer the blue end of the spectrum. However it was emphasised that this did not spell the death knell for the use of HPS lamps in applications where low light levels will prevail.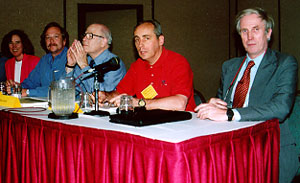 The panel discussion chaired by Dr. Boyce covered concensus or argument on vision at low light levels, research needs, and from a practical viewpoint, the relevance to practice and application needs. Only time restricted the, at times, most spirited discussion and arguments from the floor.
Tucson, Arizona was the site for the 10th Annual General Meeting of the International DarkSky Association (IDA) where over 3 days the IDA Board met prior to the AGM when during 1 1/2 days 11 papers / presentations entertained IDA members and guests from most parts of the US.
I was honoured by being asked to speak on "Action on Obtrusive Light In Australia" during which I was able to describe recently introduced Standards AS 4282 and AS/NZS 1158.1.1 These documents were were received with much interest.

Other papers covered Light Pollution near the Mt. Wilson Observatory, Progress in converting all traffic route lighting in Los Angeles to cut-off luminaires, Environmental Protection Authority interest in reducing waste upward light, Preservation of dark skies in National Parks and Monuments and Issues associated with the strict Ordinance applying in Tucson and surrounding areas. The Board reported on increased membership especially from the non astronomy sector and positive moves in many State (U.S.) to implement lighting ordinances. The photograph below shows Executive Director, Dr. David Crawford addressing the IDA Board.
Vale Charles Troxell
I cannot let this issue close with without commenting on the passing of our good friend Charles Troxell on June1 after short but hard fought battle with cancer. For those of you who enjoyed his articles in LD&A you will be pleased to learn that I recently received a message from Andrew Newman, Editor of LD&A, that a new correspondent will take over writing Illuminating Bytes soon. I take this opportunity of wishing him well in this activity.
Next Issue
Following my usual practice I seek your co-operation in supplying industry news, projects which will interest our international visitors as well as the increasingly strong local following - thanks to everyone who visits and especially those who offer comments.

You can reach me at regrw@acay.com.au or local phone / fax no.is (02) 9488 7078.

© Reg R. Wilson Lighting Analysis & Design
---
[inter.Light]

inter.Light ©1998 inter.Light, Inc.